Korean food has a very diverse range of banchan (side dishes) ranging from cooked vegetables singing with garlic and chili powder, to raw veggies that sing with their natural flavours.
It is a party of unusual flavours in a bowl. It is a must try!
Korean BBQ
If you're going to attempt Korean BBQ at home, make sure to marinate your meats the day before. Not only will this allow the flavors to soak in, but it also helps to prevent over-charring. A good marinade should have a balance of salty, sweet, and umami. Asian pear juice can be added to the mix for a touch of sweetness and extra flavor.
Korean BBQ is typically a family-style meal, and the meats are grilled right at the table. Diners will use tongs to both grab their chosen meat and to move it around on the grill located in the middle of each table. Depending on the restaurant, one or two pairs of tongs will be provided so that each diner has a set to use for raw and cooked meats.
Dak galbi (or chicken ribs) is a spicy dish that uses boneless chicken pieces marinated in a gochujang-based sauce. The addition of aromatics and various chili peppers balance out the spice level of the marinade, but it's still quite spicy. To temper the heat, it's customary to serve the dish with a river of ooey gooey mozarella cheese that's mixed in with the cooked rice.
Tteokbokki
Tteokbokki is one of Korea's most popular comfort foods. It is usually found at fast food restaurants, street-food stalls, and prepackaged frozen dishes. It has even become a staple in many Korean dramas.
The spicy, chewy dish consists of a red gochujang sauce and rice cakes. It is often accompanied by boiled eggs, fish cakes, and diagonally sliced scallions. The combination of flavors and textures is mouthwatering and addictive. In fact, it is so popular that even Trader Joe's has its own version of the dish.
While tteokbokki is most commonly made with the traditional gochujang sauce, other variations have gained popularity. Some recipes call for a yellow curry sauce, such as yupddeo bokki; others use a cream sauce, like rose tteokbokki; and jajang-tteokbokki has a sauce based on jajang (sweet bean paste).
The basic ingredients for this dish are Korean rice cake cylinders, anchovy broth or water, green cabbage, a scallion, and boiled eggs. Depending on the recipe, tteokbokki may also include other additions such as instant ramen noodles and vermicelli.
Bulgogi
Bulgogi is a savory, marinated beef dish that has become a staple at Korean BBQ restaurants around the United States. This tender meat dish has a complex flavor profile featuring fruity sweetness, earthy spices, and savory beef.
The meat is typically marinated for at least an hour. Authentic recipes also include grated Asian pear or apple (you can substitute with a pinch of kumquat, a few kiwis, or a handful of raisins), garlic, and onions for additional flavor and texture. Gochujang is a popular Korean ingredient that can be added to the marinade for a smoky, spicy kick.
Partially freezing the beef makes it easier to slice thinly and help achieve that signature bulgogi shape. Then, combine the sliced beef with the marinade and mix well. Leave the beef to marinate for at least two hours if possible, longer for best results. Once the beef is ready to cook, heat a tablespoon of oil in a skillet and add one layer at a time to cook and char the meat. Serve with scallions and sesame seeds on top for an extra punch of flavor.
Kimbap
Kimbap is a Korean snack made by rolling seasoned rice and various fillings in a sheet of dried seaweed. It is similar to sushi but has a unique taste and texture. The ingredients are usually a combination of sweet, savory, and crunchy to satisfy different taste preferences. It is popular with school children and adults who are looking for a delicious and convenient meal.
To make kimbap, start by boiling water and preparing your ingredients. It is important to use a high-quality rice cooker and cook the rice to the right consistency. You should also add vinegar to the rice to help it stick together and form a nice, plump shape.
The most common kimbap ingredients include imitation crab meat, egg, burdock root, fish cake sheets, and the Korean pickled daikon radish called danmuji. You can also add sliced carrots, cucumbers, or other vegetables. To make a vegetarian kimbap, simply omit the meat. For the best flavor, choose ingredients with a lot of color and textures. This will give the kimbap a visually appealing appearance and a fun, gourmet touch.
Japchae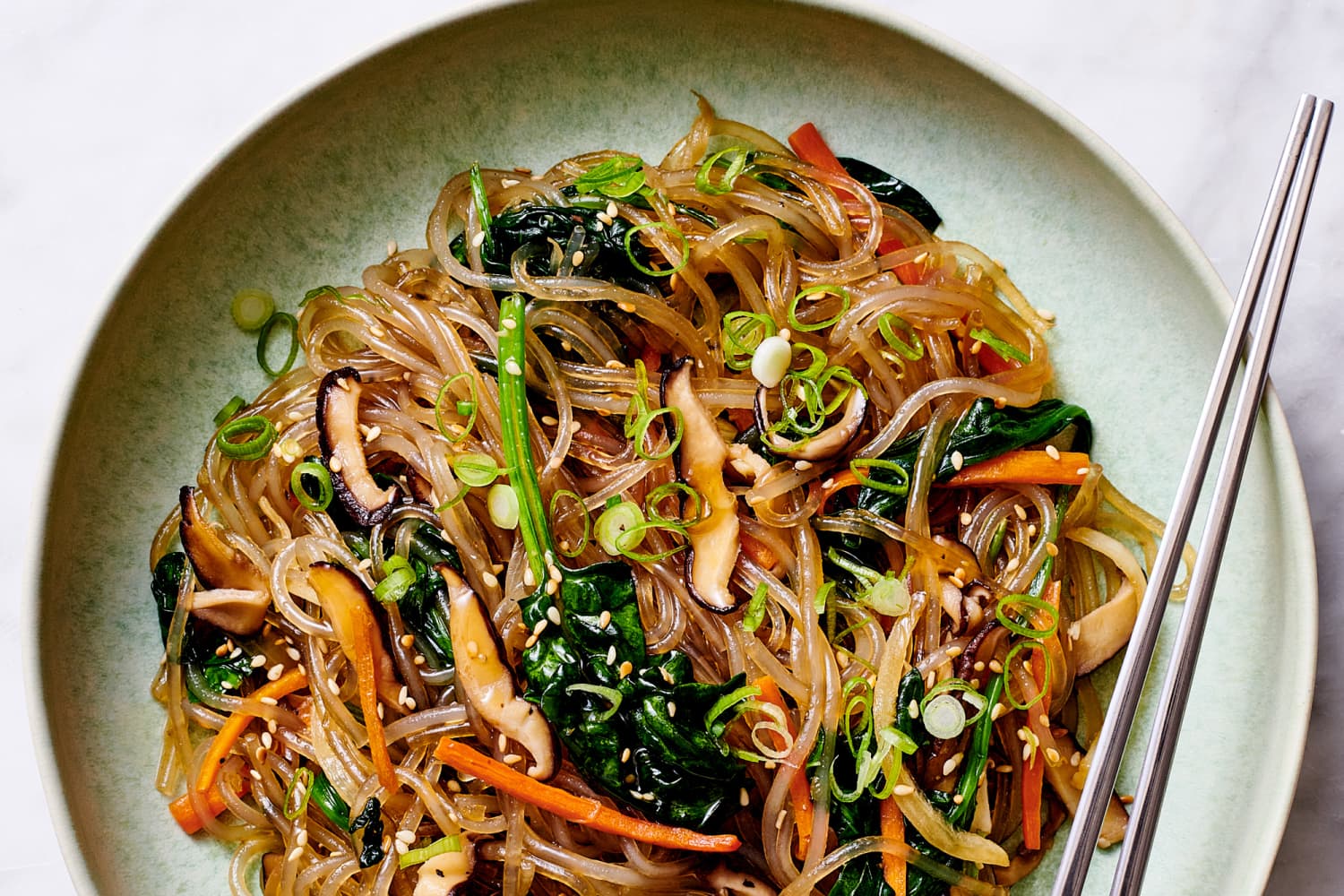 Japchae, also known as Chapchae or Glass Noodles, is one of the most popular Korean dishes. It literally means mixed vegetables, but it's all about those bouncy and slippery sweet potato glass noodles that make this dish unique from Chinese stir fry noodles or Indonesian mee goreng. Japchae is a classic dish that is enjoyed on special occasions like New Year's Day and family gatherings but can be easily made for any weeknight as well.
This recipe uses a lot of veggies such as carrots, spinach and bell peppers which all add sweetness and crunchiness to the noodles. It also has shiitake mushrooms which adds a meaty texture to the dish. You can find this type of mushroom at most Asian markets.
Another key ingredient in this dish is the sauce which makes the whole meal come together. This is why you need to prepare the beef marinade ahead of time. This will save you a lot of time when making the actual dish. Just remember that it will take longer to cook the beef in this way because you have to cook each vegetable separately.
Jajangmyeon
The ultimate Korean comfort food, jjajangmyeon is wheat noodles smothered in a thick and savory black bean sauce. It's a staple in the Korean Chinese hybrid cuisine, which was developed by early immigrants from China in the 19th century. The savory and satisfying meal is the perfect way to spend a cold, rainy night at home.
The main ingredients are Chunjang paste, a fermented black soybean paste, stock, soy sauce, minced meat and vegetables such as onions and scallions. It is a very popular dish in Korea, and it's a go-to when Koreans want to feel warm and happy. It's even become a tradition to commiserate over the noodles on Black Day (April 14th, the unofficial singles holiday in Korea).
To make jajangmyeon, boil udon noodles and add them to a pot of hot water. Once the noodles are soft, drain them and rinse with cold water. Then, stir in the chunjang paste and add salt and pepper to taste. Finally, add chicken bouillon powder or vegetable broth to the noodles, and cook it for an additional 5 minutes.
Gimbap
A Korean favorite, this dish is a crispy treat that can be filled with anything from vegetables to fish to meat. Similar to Japanese tempura, this snack is made by coating various foods in a thick batter and then deep-frying it until golden brown. The result is a crunchy, chewy and savory treat that's eaten with dipping sauces such as ssamjang or gochujang.
Gimbap is a staple of Korean street food. It consists of cooked rice, vegetables, fish or meat rolled in dried seaweed sheets (gim, or nori) and cut into bite-sized pieces. It's also a common lunchbox option and a popular choice for school children.
Kimbap is easily customizable, and it's a good idea to start with the flattest and least bulky ingredients first (like yellow pickled radish or carrots). Then add other items that are more difficult to roll up (like spinach or kani) horizontally on top of them. Lastly, finish with more fillings like fishcake or egg. If desired, dip the kimbap in an egg and cook it for a minute on each side to make it extra crisp and toasty.
Samyang Noodles
Samyang makes several types of noodles, but the company is best known for their cult-brand 'Korean fire noodles.' Known for their firm texture and spicy sauce, these noodles are quick to prepare and offer a unique culinary experience.
The spicier of the Samyang fire noodle flavors, the 2x version is sure to get your heart racing. It boasts a Scoville heat unit of over 8000, which is more than the average jalapeno. It isn't for the faint of heart, but if you want to challenge yourself or your friends to the ultimate in instant ramen, then this one is the way to go.
This flavor takes the basic hot chicken ramen and adds powdered cheese to the mix. This gives the noodles a deliciously rich flavour, and it's also significantly milder than some of the other Samyang options on this list. Simply put the noodles in 600ml boiling water for 5 minutes, drain (reserve 8 spoonfuls of water) and pour in the liquid soup and cheesy seasoning powder. Stir well and enjoy!